"Shokofeh just explains everything thoroughly, but in layman's terms, so somebody who doesn't know teeth can understand. The whole process just felt easy, and not a burden of any kind."
"Never have I had dental work done by such a warm and personable team. Finding a provider in a new city can be intimidating, but Shokofeh and her team made the process easy, and made me feel welcome from the start. My teeth look and feel better than ever!"
"My favorite dentist and staff - ever! They are friendly, personal, fast, efficient and very calming. I am afraid of all things dental, ever since having passed out at the dentist when I was a child. They make me feel very welcome and calm. I have never had to wait when I arrive. My dental work has all been well done and quick. And what could be better than sitting in the chair looking out over Green Lake? Bonus - free parking garage underneath the building. I highly recommend you check this place out."
"Lakeside dental is such a wonderful place. This was my first experience with Lakeside and I has such a great visit. They were very welcoming answering all my questions and giving me the brightest smile possible! Thanks so much you guys are amazing!!"
"Most pleasant dentist experience I've ever had. Everyone was very friendly, helpful, and communicative about every detail of the process. They gave recommendations, but never imposed and always focused on my comfort. Highly recommend."
Great service, super friendly. Genuinely interested in providing the proper care and peace of mind, making sure to explain every step of the process.
"Shokofeh and her staff communicate with me and with each other while they're working on my face. I'm sitting there listening to everything they're saying and I'm very nervous about it. But it makes me much less nervous to hear why they're doing what they're doing. They seemed to read each other really well and be on the same page. Shokofeh seems very smart, like she has a rationale behind everything she does. And there's no weird communication going over your head; she really shares and that makes you feel more at ease."
"This team is taking every step possible to ensure their customers and team are safe. The environment is always up beat and friendly. I am never rushed and the doctor always takes plenty of time to answer my questions. Their attention to detail always leaves me feeling great about my experience. They respect my time by never making me wait. In addition to my normal visits I did teeth whitening and Invisalign and I am so happy with the results!"
"Shokofeh is caring, competent, smart and she's up to date on what's available. She's staying informed about what technology is available, what materials are available. And I can tell she only stocks the best, what she would put it in her own mouth or her kid's mouth."
"After more than a decade with this dentist, all I can say is THANK YOU! I had to have an extensive amount of work done yesterday and am not sore at all, which is remarkable given how bad my TMJ is. Thank you for taking such good care of me."
"Dr. Tabaraie and her entire staff are amazing. I hadn't been to the dentist in quite awhile (lots of moving and scheduling difficulty) and they never made me feel self-conscious about the state of my mouth. They made a plan and worked with me to get myself back in tip-top shape. I get a bit anxious going to the dentist usually and they are all so welcoming it puts me at ease right away. I never thought I'd say it - but I love my dentist!"
"Dr. Tabaraie and her amazing staff did a great job in welcoming me back and getting my dental health up and running back to normal. They were understanding in my unexpected long absence that was all my own doing and didn't waste any time in getting my cleaning done. The process was nice and easy, they paid very good attention to my wellbeing throughout the process and I'm very satisfied! I feel like a million bucks after first my visit back from post COVID lockdown. Very happy to have her taking care of me and grateful to still be a patient here."
"Great staff, great care, and no attempts to 'up-sell'. I have good insurance but am on a fixed income. I need a filling replaced that wasn't done well by the original dentist and Dr. Shokofeh worked with me to find the least invasive (it's between teeth) and most affordable way to do it. Every cleaning has been almost a pleasure (let's be real, it's still going to the dentist, not Disneyland)!"
"I have had 3 visits in 2 months because of needed work. Felt totally covid-safe, due to the spacing and PPEs they have. This is a new dentist for me, and the whole team is very considerate, and the work was great. Very thorough check on what the cost would be too."
"Can't say enough good things about this office. If you are afraid of going to the dentist, this is the place to go to move past it. When I first went in it had been several years since my last dental appointment and I had a chipped molar and a bunch of cavities. I was pretty nervous about going in and seeing the dentist, but Dr. Tabaraie and her staff were completely non-judgmental and entirely focused on creating a plan to get my teeth back in good shape. That included figuring out all the different work I needed done and scheduling it to work around my insurance limits and get me fixed up with the best balance of time and cost. They got done quickly what needed to be done quickly and waited on the things that could wait."
"Dr. Tabaraie has a very calm, happy office and she made much less invasive choices than my previous dentist had planned. (I had all my silver/mercury fillings replaced -- a large undertaking.) A year out and I'm feeling pretty good. The office staff is polite, professional, and friendly. The receptionist is always attentive and organized. Never had a problem with billing. They even worked things around so that I could maximize my year-end benefits without a lot of out-of-pocket (putting some things off for the following year)."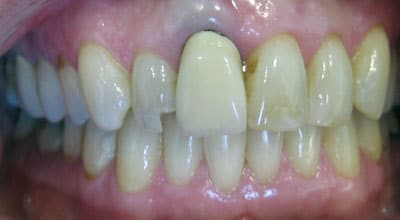 BEFORE
Front crown showing signs of aging, additional chip next to it, plus staining throughout. Patient felt self-conscious.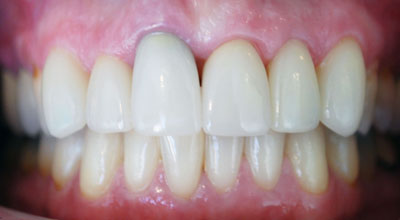 AFTER
Cleaned up smile, new crown and repair — confidence regained!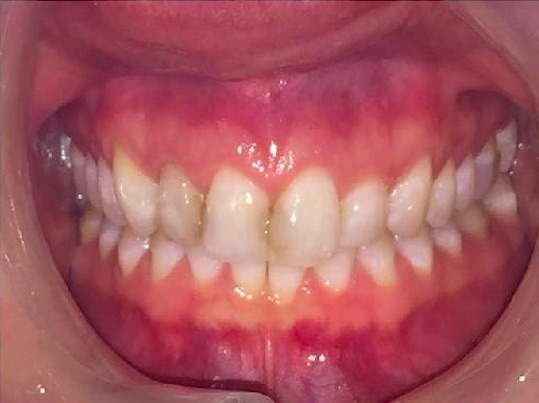 BEFORE
Front two and surrounding teeth are rotated clockwise; bottom teeth slightly counter-clockwise, making the patient unable to floss properly and become cavity-prone.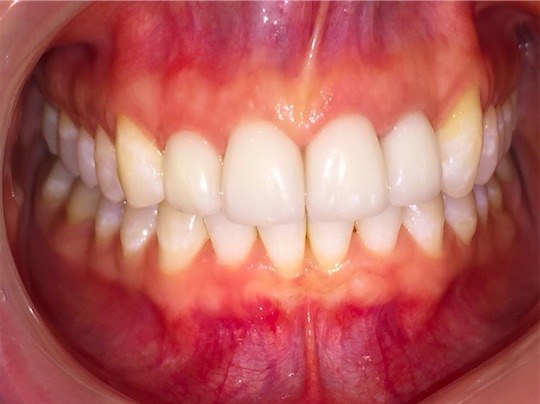 AFTER
Straight, bright and beautiful — patient beams with delight — she can floss easily and has a healthy smile.